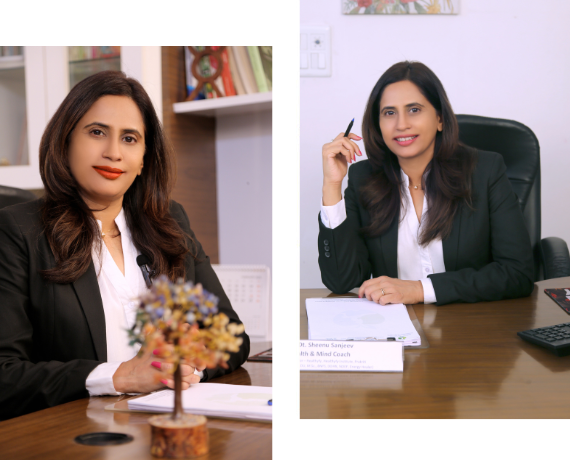 Health Coach, Dietitian, Nutritionist.
Dietitian Dr Sheenu
"My goal and mission are to Educate, Counsel, and Motivate people from Depression to Inspiration! People don't even know that they can prevent their clinical problems by merely opting for a Healthy Lifestyle and eating customized food. Yes! I am talking about GHAR KA KHANA! In this rush age, people are not even regular with their soul, leave aside looking after their physical activity and keeping a positive mental attitude. I want to change that" –
Dt. Sheenu Sanjeev
Dr. Dt. Sheenu Sanjeev has completed her Doctorate in Biomedical Science from the University of Delhi in 2003, an area that at first, did not relate to her current profession. Still, she added numerous
National and International certifications under her belt in Skin Cancer, Diabetes, Stress, Ayurvedic Herbs, and Diet planning and has in-depth knowledge about them all. Furthermore, she opted for a Ph.D. in "Use of the Active Principles of Withania Somnifera to treat Skin Toxicity leading to Skin Carcinoma Induced by UV- Radiation."

Following her dream of working in health and wellness, Healthyfy® Solutions, a registered & ISO Certified company, is now working as a leading and eminent holistic & clinical Dietician-Nutritionist, Health-Wellness Coach & International Certified Trainer in Delhi-NCR with a growing presence across India and overseas.

She has helped fifteen thousand people and counting, helping them reverse and cure their clinical and metabolic challenges across the globe with her 18 years plus of experience.

She states that natural food/ Ghar Ka Khana can prevent various metabolic and clinical challenges people living in the metro and tier-two cities face. She always focuses on natural, holistic, and lifelong ways to keep body, mind, and soul healthy. So, rather than opting for medical services, opt for wellness services that can safeguard you from sickness!

Dr. Dt. Sheenu believes that health is the topmost need of those in a growing nation, and realizing that this cannot be done alone, she laid the foundation for the Healthyfy® Health and Education Institute & Research Council (HHEIRC), whose mission is to help people embrace nature and the gift of life. She proudly says- "We build health and create healthprenuersTM."

HHE-IRC is a Government approved NSDC training provider, Internationally accredited, and ISO certified. Through this institute, she aims to create an army of healthprenuersTM to educate the people of India to heal with natural food. Working on these lines and understanding people's needs for snacking, she has also brought out a line of products to munch on while also gaining health benefits under the brand name Prakriti.

She believes and follows Napoleon Hill's words, "Whatever the mind of man can conceive and believe, it can achieve."

Dr. Dt. Sheenu is well known for her positive approach to everything. She holistically treats her clients and believes that all chronic diseases or metabolic disorders (Diabetes, PCOD, Hypertension, Thyroid, etc.) cannot only be prevented but also cured through diet and lifestyle changes. We all know of the line "Charity begins at home," similarly, she says. "Your charm begins when you are at Peace with your Body."

Her work started in 2009 as a Nutrition & Wellness Advisor, and she blossomed in 2013 as a Clinical & Sports Dietician-Nutritionist, all while getting very satisfactory results in weight management and curing LifeStyle Diseases through non-starving, scientifically planned diets. Besides all these achievements, she has a social side too, and is associated with ChildLine, orphanages, Sudhar Grah, and supports various causes. She also raises awareness and provides her input on health-related topics.

Further, Dr. Dt. Sheenu adds, scientifically planned & customized "GHAR KA KHANA" is the key to our health and can improve your immunity and protect you to a certain extent from the ill effects of environmental and social changes. Her research has shown links between what we eat and our levels of protection against health challenges.

She has worked as a project fellow with JRF at Defense Institute of Physiology And Allied Sciences (DIPAS), Timarpur, Delhi, on a DRDO (Defense Institute of research and Development Organization) project. She was Asst. Professor and Guide to the students enrolled for Ph.D., and M. Phil degree courses at Department of Life Sciences Brain waves College of Physiotherapy and Hospital Jaipur (2005- 2010).

Dr. Dt. Sheenu is also a licensed Zumba Instructor and certified in Power Yoga, Pilates, and Aerobics. She is also a certified coach and trainer in the Law of Attraction and Energy Healing. She conducts Training and Workshops on the Law of Attraction, Positive thinking, and Correction of Lifestyle disorders in a Holistic way.

Along with giving her regular consultation at 'Healthyfy® Solutions", she worked as Guest Lecturer at VLCC Delhi and Amity University Greater Noida. As a Diet Consultant/Nutritionist, she has connections with various Gyms, Sports Academies, Schools. At her Centre, Healthyfy® Solutions, she conducts Workshops and Training on multiple subjects related to Healthy Body, Mind, and Soul. She has been the honored Chair in various events all over the Nation. To add some more, she has many celebrity clients, national-level swimmers, athletes, and women participating in various pageant events. She has helped Mrs. Megha Dubey in her diet and nutrition journey to be Mrs. Earth Ambassador 2018, Mrs. East Asia Earth 2018. She is a grooming partner and jury in Ms. Mrs. Mr. India and Asia.

During the Covid pandemic, she has worked and landed her valuable lectures on various platforms like CNBC, webinars held by Ayush, UNICEF, Niti Ayog, and Childline.

As a holistic coach, she also gives free breathing exercises, Pranayama, meditation, and positive thoughts to the people affected by COVID-19. As an additional qualification, she has gotten an Advance Diploma in the Russian Language and was an athlete, sportsperson, and poet in her school and college days!
Testimonial
What Our Clients Say!
Thanks to Dr Sheenu and her team in helping me in my weight loss journey. Dietician Deepshikha gave very good Diet plan. Worth joining Healthyfy® solution. Dr sheenu and her team motivated me to follow a healthy lifestyle.The best part of diet plan is ghar ka simple khana .
Joined Healthyfy® Solutions for 3 months for diet plan to reduce weight and fat loss. Diet plan was designed with house hold items and daily routine items. Weekly follow ups and guidance helped me reduce the weight & fat. I am more fit and reduced 11Kg weight with 30inches overall. I am very happy with the progress and highly recommend Healthyfy® Solutions.
Excellent work by Dt. Deepshikha helped me reduce my HbalC From 6.4 – 5.3 , weight by more than 12+ kg , BP from 150/90 to 120/80. I feel more energetic & confident. I strongly recommend every individual to spend on diet rather than medicines.
Feeling very energetic, and happy after completing my weight loss journey in Healthyfy® Solutions. Thanks a ton, to Dt. Deepshikha ma'am Dr. Sheenu and the whole Healthyfy® team. Special thanks to Dt. Deepshikha ma'am for guiding me and listening to my all queries. You have provided your best guidance in my weight loss and inch loss.